This post and photos may contain Amazon or other affiliate links. As an Amazon Associate I earn from qualifying purchases. If you purchase something through any link, I may receive a small commission at no extra charge to you. All opinions are my own.
*This product was provided for my review by hhgregg & Samsung. All opinions are my own.
Have you seen the new black stainless appliances yet? Let me tell you, they are gorgeous! I was asked to review the new Samsung 4-Door Flex Counter Depth 23cu ft Refrigerator and I am really, really pleased with this product. Brushed stainless has been quite popular for a while, leading home decorating trends, but this new design trend has me wondering.
Is black stainless the new black?
The refrigerator delivery process went very smooth. I wanted to give a shout-out to our delivery guys, Quienten and Vince. They took care of the delivery, set-up and installation and even moved our other refrigerator down to the basement for an extra beer fridge. That was a nice bonus! The Samsung set-up was pretty fast and we had ice ready to go in less than 24 hours.
Some noteworthy features of this product…
First of all, the black stainless has a smudge-resistant and mirror-like finish that looks really modern and sleek. This smudge-resistant finish is great, especially if you have kids constantly raiding the fridge, like I do. Hands….hands everywhere!
The accents (drink/ice dispenser and handle edges) are a lighter stainless color. It coordinates beautifully with our traditional stainless steel appliances. I have the counter-depth model that fits nicely in our kitchen space.
One of the things that I loved about this refrigerator is the brightness of the interior. I can see everything really well. I don't have to worry about forgotten rotten food in the back. I may have done this a few times with our previous, side-by-side fridge.
Refrigerator inventory is much easier now with most of the food at eye level. At first, I was a little worried that I wouldn't have enough space. I can be a bit of a food hoarder since I cook a lot. Storage is important! In addition to being able to reconfigure the refrigerator via a sliding shelf, the flex feature solves this problem with the press of a button.
This model opens up to one large refrigerator section on top and two separate flex spaces on the bottom, each with their own door. The temperature can be adjusted on the front panel to switch the section to the refrigerator or freezer, which is great if I need extra room.
My favorite part of the freezer is the drawers. They are deceivingly large and keep everything nicely organized. My nosey cat checking it out, too.
The refrigerator door is very spacious, as you can see, the bottom shelf is wide enough to fit a couple of gallon-size jugs.
Some people might find that the water from the dispenser comes out pretty fast, so it might spray a little extra water on the sides of the opening when filling a glass. On the flip side, it fills my half gallon water jug really quickly, so I don't see this as an issue. I drink a lot of water, so anything that saves time is a plus.
The touch screen panel is a cool feature and very user-friendly. This is where you adjust the flex compartment temperatures, set the door alarm time and set the type of ice desired. It also lets you know when your water filter needs to be changed.
Overall, this is a fantastic appliance that we hope to enjoy for many years to come.
If you would like more information on the black stainless Samsung 4-Door Flex, please visit hhgregg for more information.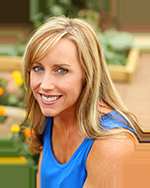 Latest posts by Amee Livingston
(see all)