Homemade chocolate pudding, just like grandma used to make – is there anything better?  It's a childhood favorite dessert, and making chocolate pudding from scratch is so much better than ripping open a packet.  Seriously, instant pudding mixes just don't compare to this decadent but easy chocolate pudding recipe.  
If your kids have been raised on the packaged kind, then knock their little socks off with a delicious batch this easy chocolate dessert.  They will think you're a rock star!  It's the simple things, you know…little things can bring great big smiles.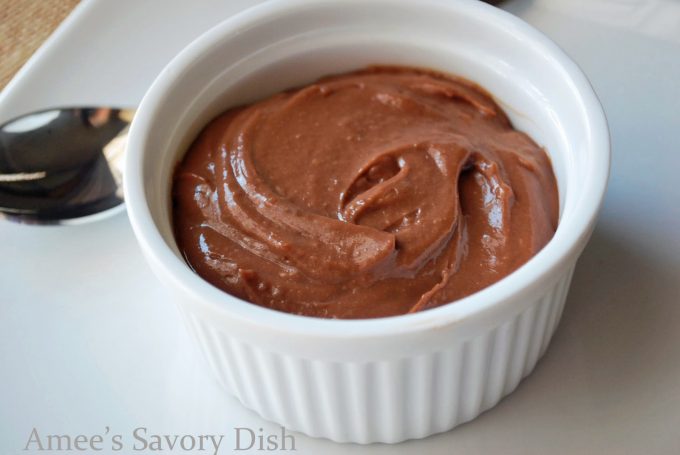 This homemade chocolate pudding recipe is inspired from a new cookbook (which is amazing, by the way!) from Chef Brian Malarkey, called "Come Early Stay Late".  If the gorgeous photography doesn't lure you in and make you drool, the recipes will definitely get your attention.  
*Disclosure: I received this cookbook at no charge, for my review.  All opinions are my own and not influenced in any way.
Chef  Malarkey and his business partner, James Brennan, have transformed San Diego's dining scene with their successful collection of restaurants know as The Fabric of Social Dining (FSD) Restaurant Group.  He's a Top Chef finalist and has appeared on many other networks like, OWN, TLC and Bravo.  Unique and creative, Chef Brian Malarkey has compiled five cookbooks into one, featuring the best recipes from each of FSD's five core menus.  
There are so many tempting recipes in this book, but I wanted to start with a simple, family favorite dessert.  This cookbook is easy to follow and unpretentious, with recipes appropriate for busy moms and fancy dinner parties.  This book is guaranteed to acquire stains and worn pages.  It's a keeper in my collection!
The dessert recipes in this cookbook are the creations of his talented pastry chef, Rachel King.  
I modified the original homemade chocolate pudding recipe, slightly, using healthier coconut sugar instead of white sugar.
 
*Pudding tip: Let your egg yolks come to room temperature before you temper them with the milk.  I like my scrambled eggs with bacon protein pancakes, not chocolate. 🙂
Homemade Chocolate Pudding
Ingredients
2

cups

whole milk

1/2

cup

coconut sugar

4

egg yolks

1/3

cup

cornstarch

7

oz

dark

bittersweet good-quality chocolate (suggestions: Scharffen Berger, Lindt, or Ghirardelli)

1/2

stick

2 oz butter, cut into small pea-sized cubes
Instructions
In a medium saucepot, on medium heat, scald the milk

In a medium mixing bowl, whisk together the coconut sugar, yolks and cornstarch until smooth and creamy

Add a little of the hot milk to temper the eggs, whisking quickly to warm (not cook) them

Add the egg mixture to the milk and bring it to a boil, stirring constantly

Remove from heat and whisk in the chocolate and butter

Combine until smooth and well incorporated

Pour into a stand mixer and beat until the mixture has nearly cooled to room temperature

Cover and chill until set

Whip cold pudding with a whisk and spoon into dishes to serve

Top with butter toffee nuts and a little homemade whip cream, if desired