This post and photos may contain Amazon or other affiliate links. As an Amazon Associate I earn from qualifying purchases. If you purchase something through any link, I may receive a small commission at no extra charge to you. All opinions are my own.
Holiday cookie recipes are part of creating special holiday memories, and baking holiday cookies for a Christmas cookie exchange is so much fun!
I had so much fun hosting another Christmas cookie exchange this year. Since we moved to Atlanta for the second time, I've been hosting this event for friends and neighbors. Since my nana stopped baking, she's 93 and enjoying a well-deserved cooking & baking retirement, I started this tradition in her honor.
She always baked hundreds of assorted Christmas cookies to package up and send out to family during the holidays. It was such a special treat to get that tin of cookies in the mail! I, honestly, don't even eat cookies anymore, but I still LOVE to bake holiday cookie recipes. It just feels like an appropriate rite of passage to carry on her special baking tradition.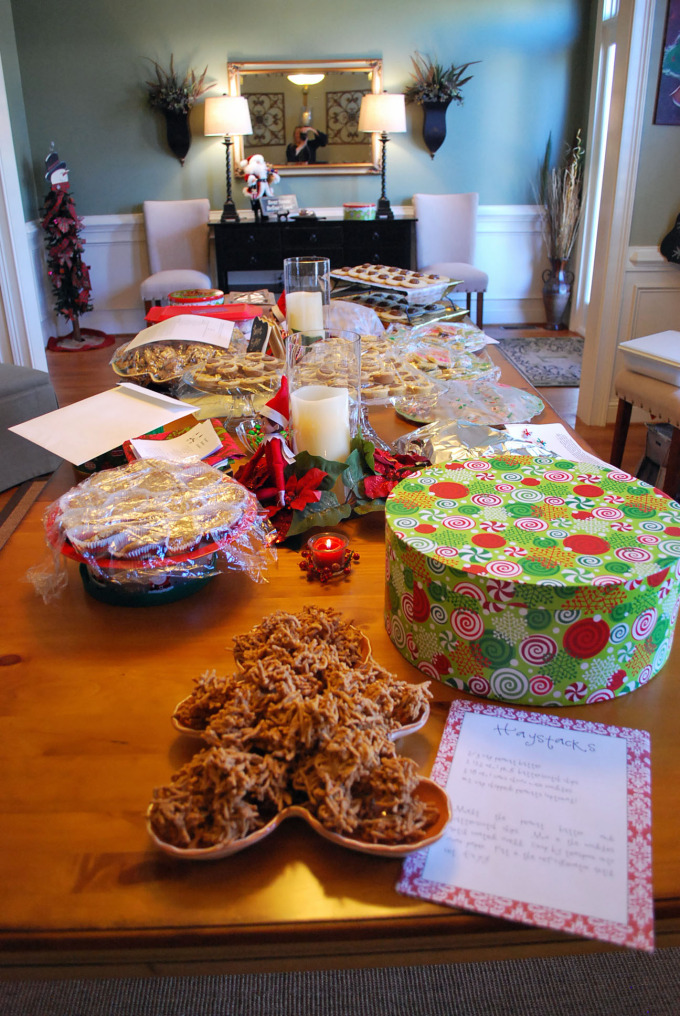 Of course, it's not a party without lots of food! My hors d'oeuvres menu included: Spinach and Artichoke Dip, Baked Brie En Croute, Bacon Wrapped Stuffed Dates, Southern Style Jalapeño Pimento Cheese, Artisan Meat & Cheese trays, fresh fruit, Smoked Salmon with yogurt dill spread, White Chocolate Peppermint Popcorn, Sangria, Holiday Punch and Sparkling Water.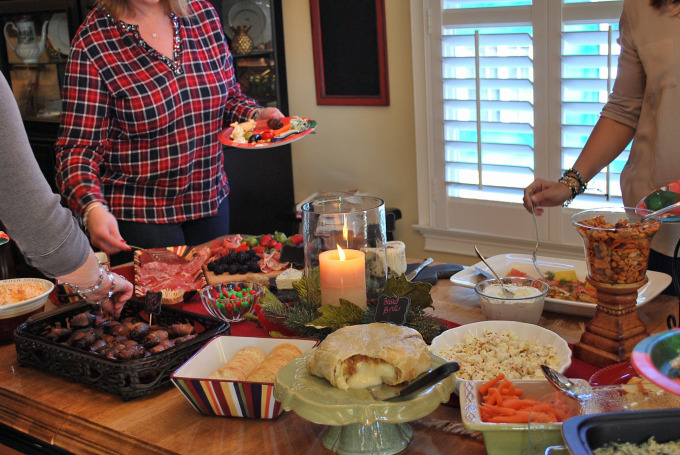 It's fun to see what new holiday cookie recipes pop up each year. I made Peanut Butter Blossoms, one of my kid's holiday favorites and they are so easy. Sadly, I forgot to take a picture of my cookies! Yes, the food blogger forgot to photograph her recipe….my brain was in overdrive with all of the party planning and preparation and I completely spaced it. My favorite recipe to use is this Peanut Butter Cup Cookie recipe from Joy of Baking, so at least you'll have the recipe to try!
Some fun holiday cookie recipes from my previous cookie exchanges are: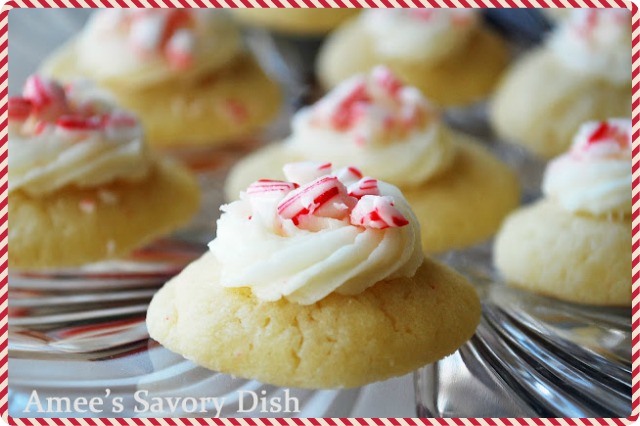 Chocolate Hazelnut Crunch Balls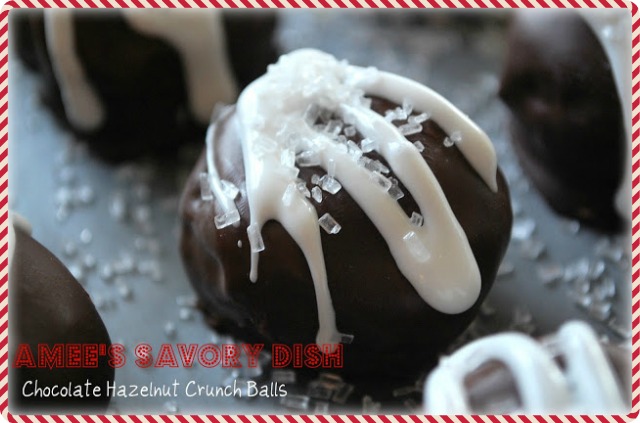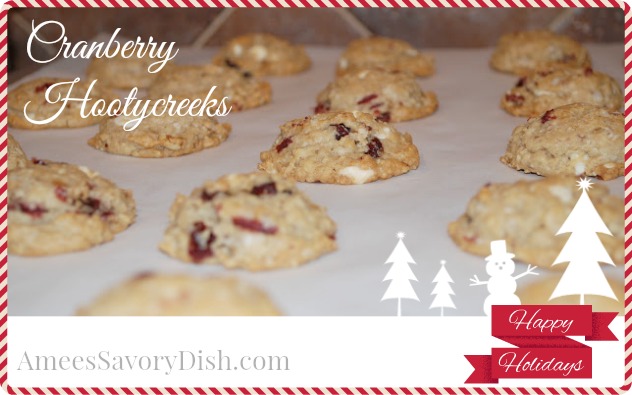 There were a lot of great holiday cookie recipes to collect and everyone did a great job with their cookie display. I gave away two prizes this year, one for most unique cookie and one for best cookie display. Everyone got to vote for their favorites.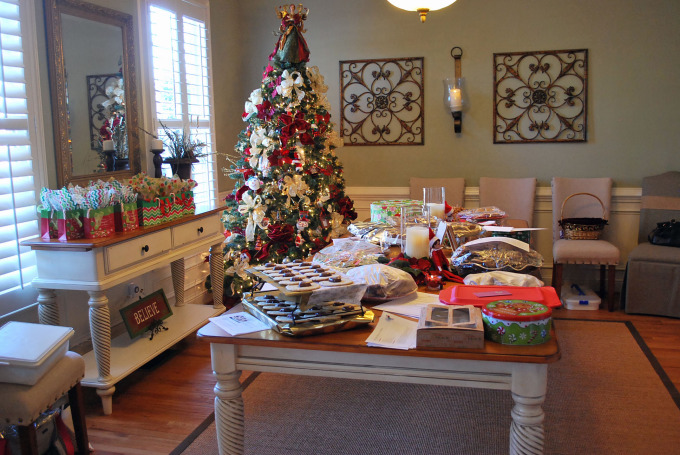 Decisions…decisions….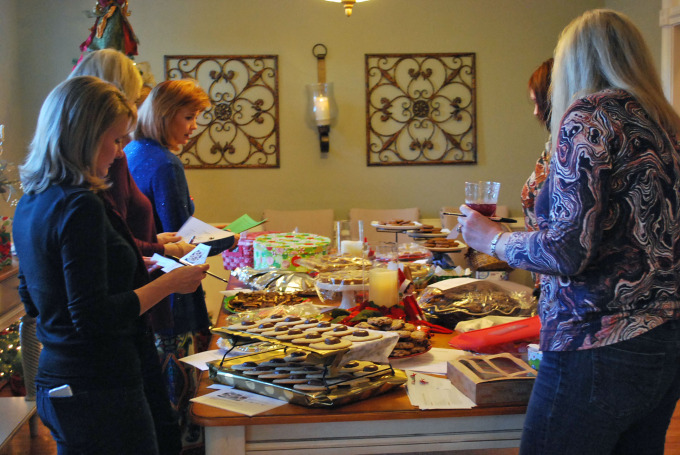 I was really excited that my food blogging friend, Renee, from Magnolia Days was able to join us this year! I met Renee in Chicago on a foodie trip in Oct. 2013. After chatting at the welcome reception, we realized that we only lived about 10 minutes from each other! Crazy! It's such a small world sometimes. Please visit her beautiful site, Magnolia Days, for recipe inspiration and you'll find her delicious Norwegian Almond Cookie recipe, too. They were buttery, tender and the perfect amount of sweetness…don't miss it!
We had an Yankee swap ornament gift exchange and there was plenty of stealing, of course. 🙂 It was a fun day with great friends. I can't wait to see what everyone comes up with next year! Merry Christmas and Happy Holidays to all of you! xo~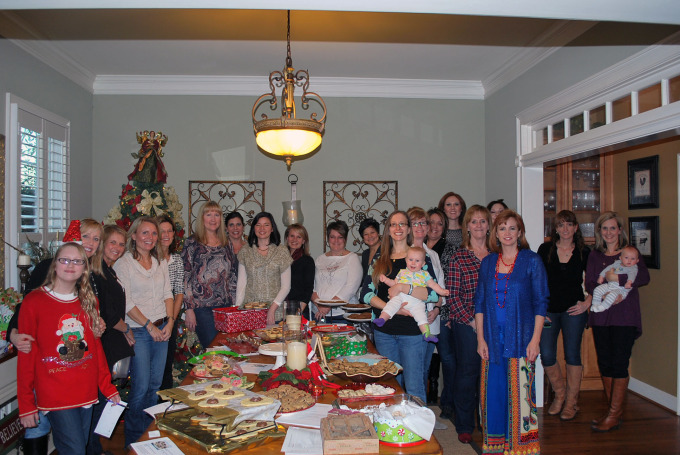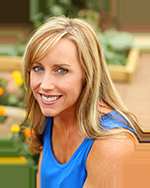 Latest posts by Amee Livingston
(see all)