Lately, podcasts have kept me sane while I'm recovering from surgery (no lifting for 6 weeks…ugh!)  It's hard not to get in a big funk when I can't get my workout on!  I love and crave my daily dose of adrenaline.  I may get the green light from my surgeon this week to get back to my weight training.  It will be five weeks this Thursday and I'm healing really well.  Fingers and toes are crossed!!  I've been occupying my brain with great podcasts from some of the most influential people in the fitness and nutrition industry during my LONG morning walks.  I have several personal favorite nutrition and fitness podcasts that I wanted to share with you, in case you are in need of some fresh inspiration.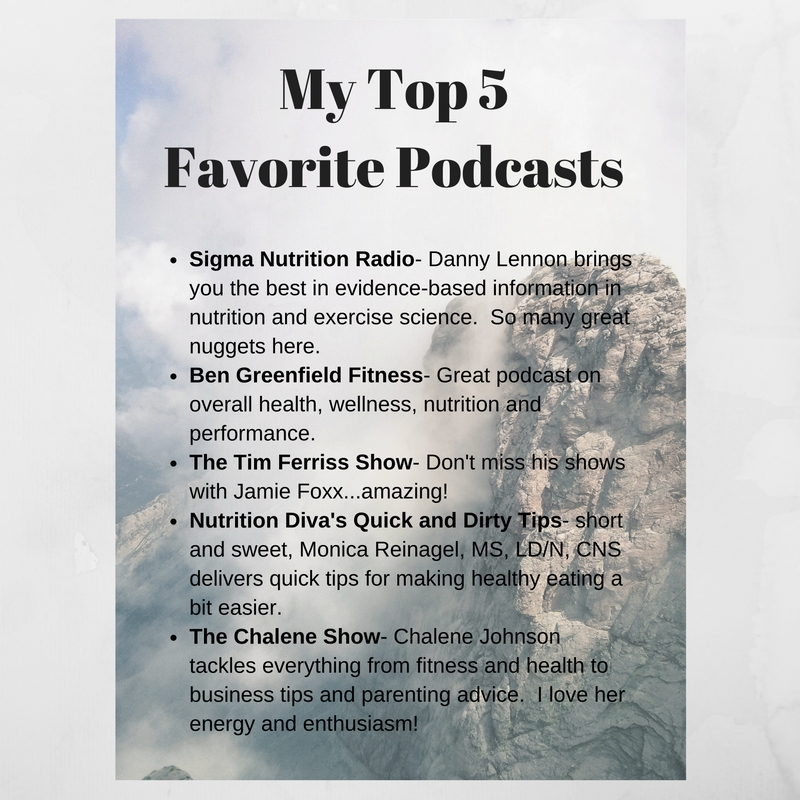 I've also asked fellow fitness pros and nutrition experts to share some of the podcasts that they love and tune into most often.  I want to know what inspires them to learn and grow in their field of expertise.  There are some FANTASTIC shows here, so be sure to take note and check them out!  I know that I'll be adding some of these to my personal list!
Laura Wall, from Laura Wall Coaching, loves Fitcast, Grey Cook Radio and Dear Sugar
Lesa Smith, NASM CPT/ PN 1 Coach, listed Sigma Nutrition Radio, Shredded by Science, TNT Podcast, Physique Science Radio, Barbells and Bone Broth, 3DMJ and Denovo Nutrition as her top favorites
Bruce Kelly, owner of Kelly High Performance Training and Fitness Together Media, recommends The Strength Coach Podcast
Carrie Hendricks, Nutrition Coach, also loves Ben Greenfield Fitness and High Intensity Health
Deanna Segrave-Daly, RDN and co-owner of Teaspoon of Spice, loves Splendid Table (NPR) for recipe inspiration, Fresh Air (NPR), Wait Wait…Don't Tell Me (NPR) and News with a Dose of Humor
Sally Kuzemchak, RD and owner of Real Mom Nutrition, shares her Top 10 Favorite Podcasts in this blog post.  If you are a blogger, she has a couple of great ones to help you grow your business!
Do you have a favorite podcast that inspires you?  If so, I would love if you would share it in the comments below!
Never stop learning and growing. 🙂
SaveSave