This post and photos may contain Amazon or other affiliate links. As an Amazon Associate I earn from qualifying purchases. If you purchase something through any link, I may receive a small commission at no extra charge to you. All opinions are my own.
Gardening, or rather, the garden itself, is my happy place……..

The garden is where I go to play in the dirt. Gardening relieves my stress and while I'm there, I just reflect on God's glory around me.
Planting a seed, nourishing it, and watching it grow is food for the soul. It's food for the stomach, too. Especially once all of the tomatoes and kale, and fresh herbs arrive!
There is inner peace that comes from gardening.
I don't meditate, but this is my time for personal reflection. I relish in the sounds of nature all around me. The whistling of the birds, the stillness of the air and the beauty of maturing plants is incredibly therapeutic. I couldn't wait to plant my seeds this year.
I finished re-planting my garden for the season today. Notice that I said "re-planting". I had spent a week (on and off) getting my garden ready for spring a few weeks ago. When I was all finished and content that my spring project was done, someone was planning a project of his own……

Meet Brownie.




My rambunctious, tireless, mischievous, but super precious German Shorthaired Pointer. You see, he felt a little left out when I didn't ask him to help me plant his favorite vegetables, so he decided to do a little "rearranging" himself. He leaped over the fence and destroyed all my beds, digging up the dirt where I planted all my seeds and up-rooting the plants that were already grown. He ate all my okra and pepper plants. It is too bad they were too small to harvest yet. I am sure that spicy s*@# to follow would cure him of a repeat offense.
When I discovered what had happened, words flew from my mouth that would make my grandma blush. I was beyond devastated and I wanted to cry. In my anger, I couldn't even grab my camera and photograph the disaster, nor could I bring myself to clean it up right away. I just drank a glass of wine instead.
I couldn't get mad at Brownie. How can you resist that face?? He's just a sweet, crazy pup. He just wanted to "play in the dirt" like me. It took me a while of gardening to get it back to normal. Most of my herbs, tomatoes and kale survived the "invasion", they just got a little crushed. Let's hope that I can keep him out of trouble the rest of the summer. My plants will thank me. 🙂


Thankfully, my garden is looking much happier now……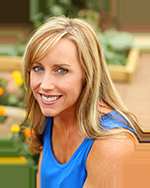 Latest posts by Amee Livingston
(see all)