This post and photos may contain Amazon or other affiliate links. As an Amazon Associate I earn from qualifying purchases. If you purchase something through any link, I may receive a small commission at no extra charge to you. All opinions are my own.
How To Make Easy Snowman Pancakes
This is a super easy way to make cute snowman pancakes for breakfast (no fancy molds required). I just use a 1/4 cup measuring cup and pour three overlapping circles of my favorite pancake batter to form a snowman shape.
Decorate with whipped topping, raisins, chocolate chips, craisins, nuts, etc. The kids had so much fun making their own this weekend. You don't have to be Martha Stewart to make cute treats for your kids, just a little imagination. These guys couldn't be more simple and they were greeted with huge smiles! I also add a little oat bran and ground flaxseed to my pancake batter for added health benefits. A small amount will not alter the taste or texture of your baked goods. Enjoy and Happy Holidays!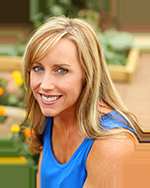 Hi, I'm Amee and I'm completely obsessed with recipe makeovers! I am a southern girl raised in South Carolina and currently living in the Charlotte, NC area with my husband and two children. I am a personal trainer, cancer exercise specialist, foodie, recipe developer, freelance content creator and breast cancer survivor.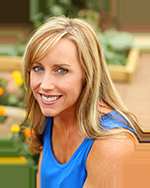 Latest posts by Amee Livingston (see all)