This post and photos may contain Amazon or other affiliate links. As an Amazon Associate I earn from qualifying purchases. If you purchase something through any link, I may receive a small commission at no extra charge to you. All opinions are my own.
*This post is sponsored by Good Food Made Simple. All opinions are my own.
Good Food Made Simple makes it convenient to whip up easy healthy recipes in minutes. I love that this brand is committed to using clean ingredients that are free of artificial or chemical preservatives, additives, colors, flavors, sweeteners or hydrogenated oils.
Their products can be found in the frozen foods section of the grocery store. Be sure and visit them on Facebook to enter their "Make the most of your meal" contest for a chance to win a cooking class for two at Williams-Sonoma!
Before I received these products for sampling, I was already a big fan of the mac and cheese. I love that they use Cabot cheese, one of my favorites. The kids love the taste. This mac and cheese is great for a quick side dish or dressed-up with added healthy ingredients.
One of their favorite combos is the macaroni and cheese with organic beef hot dogs and steamed fresh broccoli. That's a very kid-friendly meal. My kids aren't little kids anymore. However, they still love their mac and cheese bowls and these bowls take all of 5 minutes to make.
The Good Food Made Simple steel cut oat varieties are great! Oats are simple to make, but the steel cut variety (which is my favorite) takes longer to cook. For days when I'm in a hurry, I can just pop one of these in the microwave and have a bowl of perfectly cooked oats. They don't turn out mushy. The texture of these oats is just right.
Oats are one of my favorite post-workout carbohydrates. My post-workout meal is about half protein and half carbs. These oats with a side of egg whites works out perfectly. They also make for a well-rounded breakfast. I add in some thawed frozen blueberries for phytonutrients, chia seeds and sliced almonds for healthy fats and scrambled eggs for a protein boost.
Good Food Made Simple also makes a variety of delicious burritos. They average around 18 grams of protein. These are a few of their tasty flavors…..
The Root Beer BBQ Pulled Pork burrito was very tasty. I paired it with an apple and a small Greek yogurt. It was a satisfying and filling lunch.
If you'd like to learn more about how to create more easy healthy recipes with Good Food Made Simple and their products, be sure and visit their website for more information.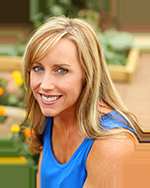 Latest posts by Amee Livingston
(see all)