This post and photos may contain Amazon or other affiliate links. As an Amazon Associate I earn from qualifying purchases. If you purchase something through any link, I may receive a small commission at no extra charge to you. All opinions are my own.
Well, it's been 2 weeks and 5 days since my bilateral mastectomy and reconstruction. It's still so hard to believe that breast cancer had invaded my healthy body. We've been through a lot in a short time frame and it still feels surreal at times. The beautiful truth is that I am cancer-free and feeling great!
My physical state post-op is a real testament to my physical condition going into all of this. My health may not have prevented me from getting cancer, but it's definitely instrumental in my ability to kick cancer's ass and progress rapidly. I'm really feeling the Easter blessings right now.
My plastic surgeon made a comment this past week, when I went to get my last two drains out and expanders filled, that he could not believe how quickly I have healed and how great my results are only 2 weeks out. Some people keep their drains for 6 weeks, so I'm lucky to only deal with them for two weeks. He was pleased enough to give me a three week break until my next fill. Yay me!! Expanders suck.
I grateful for their ability to give me a great new set of boobs, but I hurt for about 2 days after the saline injections. The first day felt like a lot of pressure on my chest wall followed by mild bee stings throughout the day. After a couple of days they didn't hurt much, just the usual ache from my chest continuing to heal and the "zingers" that come and go.
The zingers are like sharp, quick shooting pains that are pretty common post-mastectomy. This is caused by damage to the nerves being cut during surgery and can happen as the nerves grow back, as well. I may or may not get all of the sensation back to my arms, underarms and chest.
Only time will tell on this, but I will be aggressive with my exercise and mobility to work towards the best outcome I can possibly get. I love my quality of life and I will work hard to keep it.
I have a little bit of axillary web syndrome aka "cording" going on in my right armpit area. This makes it challenging to comfortably get my arms into an overhead extended position and limits my ability to externally rotate my right shoulder. It kind of feels like a rubber band pulling back on my armpit as I pull it up. This can be tricky to mobilize out, but I'm going to push to try and stretch that tissue as much as possible.
I'll be sharing some of my exercises on Instagram, so make sure you are following me at @ameessavorydish. Hopefully, what I share can help other women going through this and give them some different ideas for mobility. These exercises will be great for anyone looking to improve their range of motion.
Other than that, I've felt pretty great since the last two drains were pulled. They were the worst part of my initial recovery. Having tubes hanging out of your body that you have to empty out several times of day is awkward and really uncomfortable. I felt like a new woman when they were gone!
I've started getting back to cooking this week and have a nice meal planned out for the family today with a ham, gluten-free broccoli casserole, slow cooker mashed potatoes, rolls, and my mom's famous coconut cake recipe for dessert. It feels good to be back in the kitchen doing what I love to do. I'm not gonna lie, getting all of those great meals from my friends was starting to really spoil me!
I have eaten some delicious food these last two weeks and we are so thankful for everything. Also, while I've been recovering, my blogging friends have been sharing some incredible recipes on the blog, so I certainly hope that you're getting my emails for the latest updates! I still have more to come, so don't miss out. 🙂
My doctors have been amazing, my husband has taken such good care of me, my friends and neighbors have showered me with love, prayers, gifts, messages and food. There are so many silver linings in this cancer journey.
Being Thankful.
My faith has been solid, my heart full of love (thank you everyone that lifted me up) and I'm full of hope going forward. I take nothing for granted. I am abundantly blessed and I will take this day to reflect on how thankful I am that God has given his own son to give life to us. He brings us peace, love, forgiveness and joy if we just stop to listen. He is so good.
Wishing you all a blessed Easter and much happiness! Oh, and hopefully chocolate!! xo~
Amee
Read more about my journey battling breast cancer and how you can reduce your own risk:
Three Words I Never Thought I'd Hear...You. Have. Cancer
Ten Tips To Manage Stress and Improve Your Health
Five Things You Can Do Now to Reduce Your Risk of Getting Cancer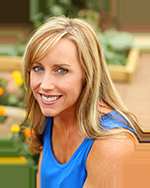 Latest posts by Amee Livingston
(see all)