This post and photos may contain Amazon or other affiliate links. As an Amazon Associate I earn from qualifying purchases. If you purchase something through any link, I may receive a small commission at no extra charge to you. All opinions are my own.
I got the results back from my MRI and the good news is, cancer did not appear to be in my lymph nodes. Hallelujah!!! Now, the only way to know this for sure is when my oncologist gets the pathology report back from my mastectomy. He's going to take a couple of sentinel nodes on each side for testing.
If everything looks clear, then maybe I can avoid Tamoxifen. I'm really crossing my fingers on this because it requires long-term use and can be hard on the body. I would also love to avoid radiation and this too depends on the pathology. The bad news was that the cancer in my left breast was larger than they thought, so a lumpectomy would not have been an option.
They also discovered a suspicious area on my right breast (about 9 mm in size) with the MRI that wasn't seen on the mammogram. If I didn't make the proactive choice to take both breasts, then I'd being going through a biopsy on my right breast and possibly dealing with this shit all over again later. Where the cancer is located (lower in my breast tissue) I'm a good candidate for a nipple-sparing mastectomy. This is really great news. My oncologist said that, in the end, I would most likely look like I had breast augmentation instead of mastectomy.
Before talking to my friend that has been through this before, I had no idea that this was even an option. I made the mistake of Googling breast reconstruction. I had to shut my computer and walk away. If you are diagnosed with breast cancer, stay off Google!! This surgery has come a long way. Technology amazes me.
When I was little, I was obsessed with wonder woman. I told my mom that I wanted to grow up and have a "crack" in my chest like wonder woman. I must have been 5 or 6 and I would run around the house in my panties and a cape and pretend the save the world. Well, I grew up and my "big boob" wish was granted. These girls have definitely served me well. Their superpowers made me feel beautiful, they nourished my children and soon they'll be gone…..
I remember being so inspired by Christina Applegate speaking out about her breast cancer journey and the emotional scars left behind after a bilateral mastectomy. Years later, Angelina Jolie did the same. They both had a big voice and used it to help other women. I'm blessed to have this blog and so many thousands of people that visit and read it each month. If we don't use our platform for the greater good, then what's the point of having it? I've always wanted to educate and motivate women and men to be proactive with their health, but now I'm hell-bent on it.
It's important that people see me as the face of cancer. I don't look like I have cancer. I don't feel like I have cancer. I don't live a lifestyle that's conducive to getting cancer. I'm in great shape. I have made choices that I'm proud of, but I still GOT cancer.
I'm not ashamed of my diagnosis, nor am I defined by my diagnosis. I will not allow cancer to make me feel like less of a woman. My spirit is whole, even if my body is broken. We cannot get too attached to the physical world. I believe in taking care of my body, but not placing my self-worth on how it looks. If we get too caught up in the physical, we lose the spiritual journey.
I learned that a long time ago being raised by a handicapped father. His soul is beautiful. His body is broken. I don't see flaws or physical limitations; I see his heart, his strength, and his courage. We treat our obstacles like big mountains to climb. Once we make the journey to the top, we can revel in the glory of the accomplishment. I had a little conversation with God and said: "If you are going to use me as an instrument, then make me a damn good one!!"
I'm a fighter. I'm strong and I'll win.
Read more about my journey battling breast cancer and how you can reduce your own risk:
Three Words I Never Thought I'd Hear…You. Have. Cancer
Ten Tips To Manage Stress and Improve Your Health
Five Things You Can Do Now to Reduce Your Risk of Getting Cancer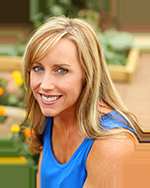 Latest posts by Amee Livingston
(see all)