This post and photos may contain Amazon or other affiliate links. As an Amazon Associate I earn from qualifying purchases. If you purchase something through any link, I may receive a small commission at no extra charge to you. All opinions are my own.
Pumpkin raisin biscuits make the perfect light breakfast or snack. They're extra light and fluffy due to the carbonated water that they are baked with!
*This post is sponsored by Sodastream. While I was compensated and provided product for my review, all opinions are my own and not influenced in any way.
Food science is super cool. I've been an avid watcher of Alton Brown's "Good Eats" for years, loving all his quirky explanations of the science, history, and technique behind cooking our favorite foods.
I like to explore different methods of cooking and baking, and I enjoy stepping outside my comfort zone in the kitchen. If I screw up, no big deal, it's all about learning what works and what fails and that's what makes us all more well-rounded home chefs.
When I received the new SodaStream Play, I couldn't wait to use it for non-traditional purposes. Honestly, I don't drink classic soda pop, but I do love sparkling water and drink it often. I knew that it would be fun to use to make unconventional bubbly drinks and to use in my baking experiments.
How do you use carbonated water in baked goods like pumpkin raisin biscuits?
Here is where it gets pretty cool and interesting, well, at least to food nerds like me. The carbon dioxide in the sparkling water gives a lift to the dough, making it lighter.
The bubbles create pockets of air that expand under heat, yielding an airy texture in the finished product. It also lowers the pH of the dough, making it more acidic, slowing the yeast's leavening action and yielding a more tender dough.
It's important that the water is really cold since increasing temperatures affect the ability of a liquid to hold gas.
When you work with dough made with sparkling water, you need to work quickly and make sure you don't overwork it.
Pumpkin raisin biscuits made with sparkling water from the SodaStream Play are delicious and the biscuits recipe is a keeper!
Remember not to play with the dough too much. I know it's tempting but just knead it enough to combine, then gently roll it out to cut your biscuits. You can leave out the pumpkin and raisins and do all yogurt or sour cream. They will turn out delicious either way!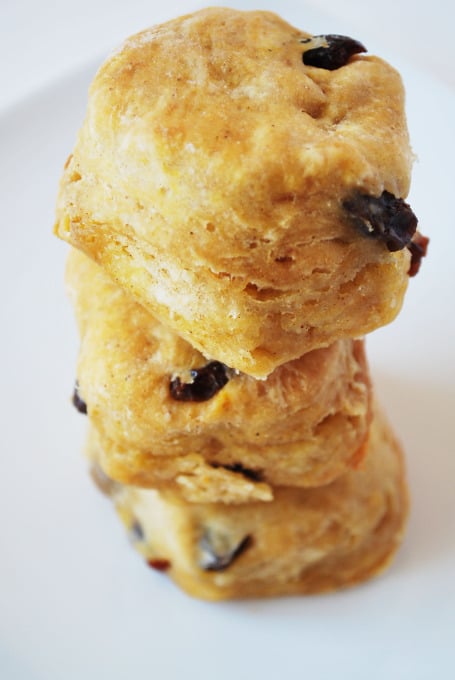 These pumpkin raisin biscuits have a very subtle pumpkin flavor and are wonderful eaten alone or with your favorite biscuit toppings. They are amazing with apple butter or pumpkin butter this time of year!
Have fun playing in the kitchen and don't forget to check out the Sodastream Play! Making your own carbonated water is a big cost saving if you purchase sparkling water. Just think of how many fun cocktails you can make with it, too!
You can even personalize it with these cool skins. They offer a great line of naturally sweetened products and the MyWater flavor essence drops, which I used in the bonus, Cherry Orange Spritz, recipe below.
After you make the pumpkin raisin biscuits, please let me know what you think of the recipe!
To go with the pumpkin raisin biscuits, I created a natural fruit soda recipe, using my new Sodastream. It is a great alternative to syrup sweetened beverages. My daughter gave it a kid-approved, two thumbs up!
Cherry Orange Spritzer
1 cup sparkling water
2/3 cup fresh orange juice, not from concentrate
1/3 cup organic tart cherry juice
a couple drops Sodastream's MyWater Orange Essence
1/2 cup ice
orange slices, for garnish
Blend all liquids together, add ice and garnish with fresh orange slices. Enjoy.
Soda doesn't have to be unhealthy when you can make your own, clean-diet, recipes with the Sodastream Play!

Ingredients
4

cups

unbleached self-rising flour

1/2

cup

plain Greek yogurt

1/2

cup

pumpkin puree

1

cup

sparkling water

from the Sodastream Play

1/2

cup

pastured butter

melted and cooled to room temperature

1/2

cup

raisins

1

tsp

cinnamon

1/2

tsp

pumpkin pie spice

1/4

cup

brown sugar

1/2

tsp

vanilla extract
Instructions
Preheat the oven to 425 degree F

Combine yogurt, pumpkin, brown sugar, vanilla and spices until smooth and well incorporated

Cut mixture into the flour until it resembles fine crumbs

Stir in raisins

Add carbonated water and stir gently as dough ball begins to form

Dump mixture onto a flour coated surface and roll out to about a 1" thickness

Dip a glass or biscuit cutter in flour and cut biscuits

Pour butter into a 9X13 baking dish

Place biscuits into pan with sides touching (you should have room for about 24 biscuits)

Bake for 20-25 minutes

Serve warm with butter, raw honey, pumpkin butter or all-fruit preserves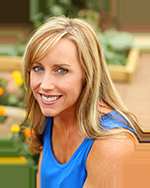 Hi, I'm Amee and I'm completely obsessed with recipe makeovers! I am a southern girl raised in South Carolina and currently living in the Charlotte, NC area with my husband and two children. I am a personal trainer, cancer exercise specialist, foodie, recipe developer, freelance content creator and breast cancer survivor.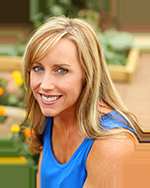 Latest posts by Amee Livingston (see all)