This post and photos may contain Amazon or other affiliate links. As an Amazon Associate I earn from qualifying purchases. If you purchase something through any link, I may receive a small commission at no extra charge to you. All opinions are my own.
Berry picking is a tradition in our family. Each spring we load up on fresh, ripe strawberries. In the summertime, it's blueberry, peach and blackberry picking time. Nothing beats fresh seasonal berries!
The Best Time For Blackberry Picking In The South
My daughter and I spent the morning at Southern Belle Farm picking beautiful, ripe blackberries. It's a favorite local farm in McDonough, Georgia. In Georgia, prime picking time is early to mid-July. In most southern states you'll harvest the best, sweetest berries in July and August.
It's worth the cuts and scrapes to fill several buckets full of plump, ripe berries. I often catch my daughter with a wide purple-tinted grin. She loves eating them straight from the vine. You may even have to fight the bees for these tasty summer gems.
At Southern Belle, we love filling up several buckets with their ripe and juicy blackberries. I see our favorite homemade easy blackberry cobbler and mixed berry super easy homemade jam in our future. Of course, we love to eat them just as they are….sweet and delicious!!
Blueberry and Blackberry Picking at Southern Belle Farm
Blackberries Are Full of Great Nutrients
Blackberries have 8 grams of fiber at only 60 calories per cup. Not to mention, they are a great source of Vitamin C, K, and manganese. The phytochemicals and antioxidants in blackberries also make them a nutrition powerhouse.
Blackberries are a sweet treat that you can feel great about eating! They make the best topping for steel-cut oatmeal, Greek yogurt or cottage cheese.
How big and sweet they are…
My daughter has an eye for the best beauties. She's an awesome picker.
Southern Belle Farm has some of the biggest blackberries I've ever seen!
Tips For Storing Fresh Blackberries
Wait to wash the berries until you are ready to use or eat them. Place the fresh berries in a paper towel-lined container that can circulate air (containers with holes on the sides work great) and store them in the refrigerator for up to a week. They are best used within 3 or 4 days.
However, I don't think that will be a problem. 😉
Homemade Blackberry Cobbler recipe coming next…Yum~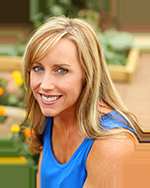 Latest posts by Amee Livingston
(see all)