5 Ways to Stay in the Game as a 40s & 50s Athlete
By Jennifer Fisher, thefitfork.com
I don't know how this happened, but I'm going to be 50 years old this summer — that really snuck up on me! Friends, family and even my doctor ask if I plan to cut back and/or slow down on my road running, Spartan Races and CrossFit and other fitness pursuits now that I'm "getting older," and my answer to them is always, "It' depends on how you look at it."
Literally, I acknowledge that I am slowing down and year-by-year and, finally after some reflection, it's getting to be an easier pill to swallow. While I don't have all the unlimited physical potential I did as a 20-something, I still have unlimited potential as a 50-something. And honestly, I can do things now, that I couldn't as a young 'un – and vice-versa. It's all relative. This is my lifelong fitness journey, and that brings me to my next point. While literally, I might be slowing down, figuratively I'm not slowing down a bit – I still always strive to do my best, leave nothing on the course, and keep evolving with new personal goals.

As an older athlete, I've had to start paying more attention to how I treat my body. Gone are the days when I could eat whatever pleased me, ignore mobility, scrimp on sleep and still wake up to run a 2:50 marathon and then go dancing later that same night. A few are mental, a few physical, but here are
5 Ways to Stay Fit Over 40
Change What You Can, Accept What You Can't
In life, you can tweak many things for the better (from diet to attitude), but you can't change the body you were given– only how you accept and honor it. Unfortunately, science says you can't stop the aging process, only slow it with an overall healthy lifestyle. But, that doesn't mean you can't be a top tier athlete in your 40s and 50s.
The focus should be to optimizing performance for the age and abilities that you have. When you stop comparing your 50s body to your 20s body, the strengths you DO have on your side become clearer and easier to appreciate. For example, while pace-per-mile may have slowed despite the same effort, mental strength and confidence have likely doubled. With life comes experience!
Keep "Fit" Fun
One of the keys to a lifetime of fitness and enduring success as an older, master athlete is to not take it all so seriously. While it's all fine and good to have the eye of the tiger on race day, I am a proponent of incorporating fun into everyday training – even if it's just a few minutes at the end of each workout. Another idea is to devote an entire day to enjoying and "out of the norm" activity. Indoor rock climbing, hiking, kickboxing, paddle boarding and acro yoga are some of my fun, not-everyday diversions.
Be a Mobility Authority
As a younger athlete, say in your 20s or even 30s, you may have taken for granted that your body would move and bend as you please. But, in middle age, it seems like flexibility is one of the first things to go – all of a sudden you notice you can't touch your toes or are getting nagging injuries, like ITB knee pain or a sore back.
As a master athlete, you need to become your own mobility authority. Get in touch with your troubled areas and really work them out with a foam rollers, yoga balls or other trigger point tools. Be proactive and work on the areas that aren't even fussy yet! All of this will help to loosen the muscles, ligaments and connective tissues (fascia) and restore some degree of lost mobility and natural elastic spring. When the facia is in good shape, your muscles fatigue less rapidly – meaning you can perform at a higher level!
If you think you don't have time for mobility, think again – it only takes 5 to 15 minutes per day. I do a little mobility work before and after workouts and also on active recovery days.
Fuel Up Wisely
It might seem a cliché saying, but you wouldn't put regular gas in a premium sports car . . . and turn it into an old clunker! The right foods help to keep your engine revved up and in tip-top order, as well as help to expedite recovery. I don't espouse one particular "diet" over another, but do suggest that as you portion your plate to aim for plenty of lean proteins (animal or plant), plentiful fruits and vegetables, reasonable amounts of healthy fats (like nuts, avocados, olive oil, coconut oil) and enough whole grains or complex carbohydrates to provide enough energy to keep you from falling flat in a sweat sesh. I share lots of quick and easy recipes, like Fast & Fit Steak Pho with Zucchini Noodles, to fuel an active lifestyle on my blog, TheFitFork.com – please visit.
Strength-ify Yourself
Lift something, even if it is just your bodyweight. Personally, I have no need for super heavy, low-rep lifts or lifting for a PR, as a competitive runner, that's not the kind of stress I want to have on my older joints. However, your goals may be different, just listen to your body. I will do moderate, higher rep lifts up to about 75% to 80% of my perceived total ability.
What I really love is bodyweight strength-training, good old-fashioned pull-ups, push-ups planks and such! I feel that my time in the gym has given me an edge as an elite runner, well into my 40s, and fended off injury. Also, it has given me a new skill set that I've put to good use on the obstacle course and in my day-to-day living (I can carry ALL the groceries at once from the car and up the garage stairs into the kitchen). Also, and sorry if it's TMI, strengthening my core also helped me to non-surgically remedy bladder issues I experienced for years after having three really big babies!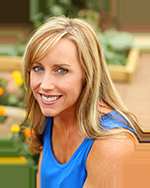 Latest posts by Amee Livingston
(see all)