This post and photos may contain Amazon or other affiliate links. As an Amazon Associate I earn from qualifying purchases. If you purchase something through any link, I may receive a small commission at no extra charge to you. All opinions are my own.
Bento box lunches are a fun way to serve lunch to kids. Creating Bento meals isn't difficult at all, and it can even be fun to come up with creative ideas! Here are 3 creative bento box lunch ideas.
I am so excited to feature Corey from Family Fresh Meals today! I absolutely adore her creativity in the kitchen. She shares so many great kid-friendly recipes on her site. I know that my daughter loves her creations and I am sure that your kiddos will, too! Some of my favorite finds on her site are her bento box lunches. If you are having a hard time getting your kids to eat their veggies, then it's Corey to the rescue! Her cute ideas make healthy eating fun!
Hi! I'm Chef Corey….proud mother of "Big D" & "Little D" and awesome wife to Darryl 🙂 I am THRILLED to be here, guest posting on the amazing Amee's Savory Dish!
In January of 2011, after watching Jamie Oliver's Food Revolution, I made the New Years resolution to start a food blog. By the end of January, Family Fresh Meals was launched! I have found great joy in posting step-by-step recipes of new and fun, fresh meals that the whole family can enjoy.
At least once a week, I post bento box lunches I have made for my kiddos. These fun packed lunches have allowed me to introduce new and different foods into my children's meals, and instead of meeting resistance from them, they beg for more! I would love for you all to come visit Family Fresh Meals. 🙂
XO Chef Corey
In this bento box, there are baby carrots, yogurt covered pretzels, homemade Gooey Chocolate Nut Bar, orange slices, and a cheese sandwich with blueberry sky and spinach leaf grass.
For this lunch box there is a cheese bunny sandwich, surrounded by strawberries. Under the bunny are buttered noodles, with broccoli and cheese cutouts.
This bento box lunch has turkey rolls, mini toasts, cheese stars, green apples, yogurt and raspberries.
Other delicious kid-friendly lunch ideas: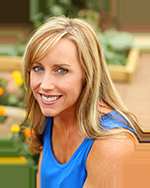 Latest posts by Amee Livingston
(see all)