These baked protein donuts recipes are from a guest blogger, Jennifer Fisher, from The Fit Fork. I'm a big fan of Jennifer's blog, and I know that you all will love her, too. She is sharing a few of her favorite protein-rich doughnut recipes with us today.
Healthy donuts may sound like an oxymoron, but Jennifer has made these easy baked donuts more nutritious and guilt-free!!  Yippee!!!!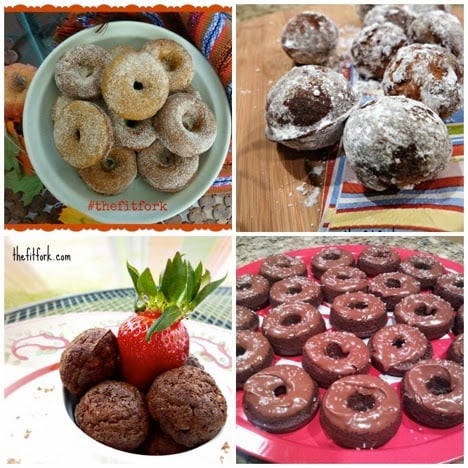 Baked Protein Donuts and Doughnut Holes
Right in the middle of my neighborhood running route is a donut joint; depending on how windy the weather, I can catch a whiff of deep-fried-sugary-deliciousness up to a half mile in every direction. Every once in a while, I'll stop in to get something "for the kids," but typically I make an intentional detour to avoid the siren song scent of these sweets.

 
Did you know that the standard medium-sized glazed donut has about 250 calories, 12 grams of fat and a huge load of refined carbohydrates including sugar and white flour?
Even if you can limit yourself to just one, a donut is going to quickly spike your blood sugar level and set you up for an impeding energy crash. Plus, several research studies have shown that carbohydrate-based breakfasts, especially at the expense of adequate protein consumption, cause overeating and snacking later in the day and subsequent weight gain.

    
After reading all this, you probably think donuts can't be a part of your healthy lifestyle – but, oh yes they can with some of my healthier versions!
Over the years, I've tweaked donut recipes with a number of healthy swaps. Baking vs. frying, using natural sweeteners such as honey, coconut palm sugar, or Stevia vs. white sugar, and using gluten-free grains such as ground oats or almond meal vs. all-purpose wheat flour. I'm sharing some of my favorite doughnut recipes today!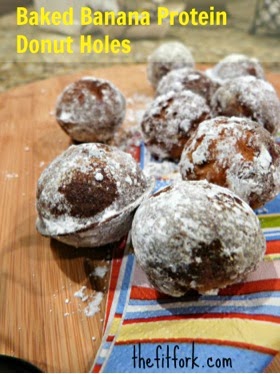 Who doesn't love banana bread?

 

Not only do these mini munchies taste fantastic, they are pumped up with protein powder (use your favorite brand) for long-lasting energy. I made these

Baked protein donuts

in a cute little cake ball machine. I love being a food blogger because I have a great excuse for getting all sorts of fun kitchen gadgets, but if you don't have a cake ball maker, just substitute mini muffin tins instead.

 

These donut holes are both gluten-free and Paleo friendly.
Also gluten-free and Paleo-friendly, my
ChocolateStrawberry Protein Donut Holes
are going to rock your socks off! My brain neurotransmitters get all atwitter in a good way when I get a little chocolate fix and I seriously think these mini donut holes make me run faster! Plus, since there's no sticky glaze or toppings, these bite-sized donut holes can be stashed in a zip-top bag and taken on the go.
This is the first baked protein donuts recipe I ever created with protein powder, and it may be my all-time favorite. Probably because of the dark chocolate glaze on top!

 

I've made these

Baked-and-Better Chocolate Protein Donuts

for holiday brunches and I always have to convince my guests that they are not as naughty as they look.
I love baking with pumpkin, recipes like

Baked Pumpkin Protein Donuts

are a great way to reduce the amount of unhealthy fats in your diet and increase consumption of important vitamins and minerals. And, unlike many other fruits and vegetables, canned pumpkin puree (not pumpkin pie mix) is just as nutritious as fresh. I always stock up my pantry with a year's worth of pumpkin in the fall!
Be sure and check out Jennifer's latest post for a mouthwatering Pistachio Honey Donut recipe in honor of National Pistachio Day!
Jennifer Fisher is a wellness and recipe blogger, guest speaker on food and fitness topics and healthy cooking coach. In addition, Jennifer is a competitive master's runner, CrossFit and gym enthusiast, stand-up paddle boarder and mother of three pre-teen through teen boys! She loves all types of adventure and has done everything from running with the torch in the XIX Olympics to battling it off in the 43rd Annual Pillsbury Bake-Off. For more on Jennifer, visit her blog TheFitFork.com.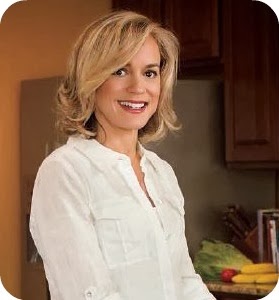 For more kid friendly healthy snacks like today's baked protein donuts, check out these recipes: