This post and photos may contain Amazon or other affiliate links. As an Amazon Associate I earn from qualifying purchases. If you purchase something through any link, I may receive a small commission at no extra charge to you. All opinions are my own.
Disclosure: I was sent a box of Ambronite to review. It's a drinkable meal made with organic, whole food ingredients that are advertised to curb hunger and keep you energized and satisfied for 4-5 hours.
Just to be clear, this is intended as a meal replacement and geared towards individuals that want a healthy, filling and nutrient-dense meal on-the-go. Cooking is not always convenient on busy days and sometimes we just ain't got time for that! Enter the whole food meal in a glass…
What Ingredients Make Ambronite A Supermeal?
This shake contains 18 organic ingredients, including oats, coconut, lucuma, chlorella, wild bilberry, wild sea buckthorn, brown rice protein, stinging nettle, rice bran, nutritional yeast, spinach, spirulina, almonds, flaxseed, apple, mineral salt, brazil nut and black current.
Ambronite is Vegan, created with clean ingredients and nutritionally balanced for the best metabolic response. I've got a hell of a metabolism (thankfully), so if this shake kept me full I was going to be impressed. Here's the breakdown of the nutrients in the shake: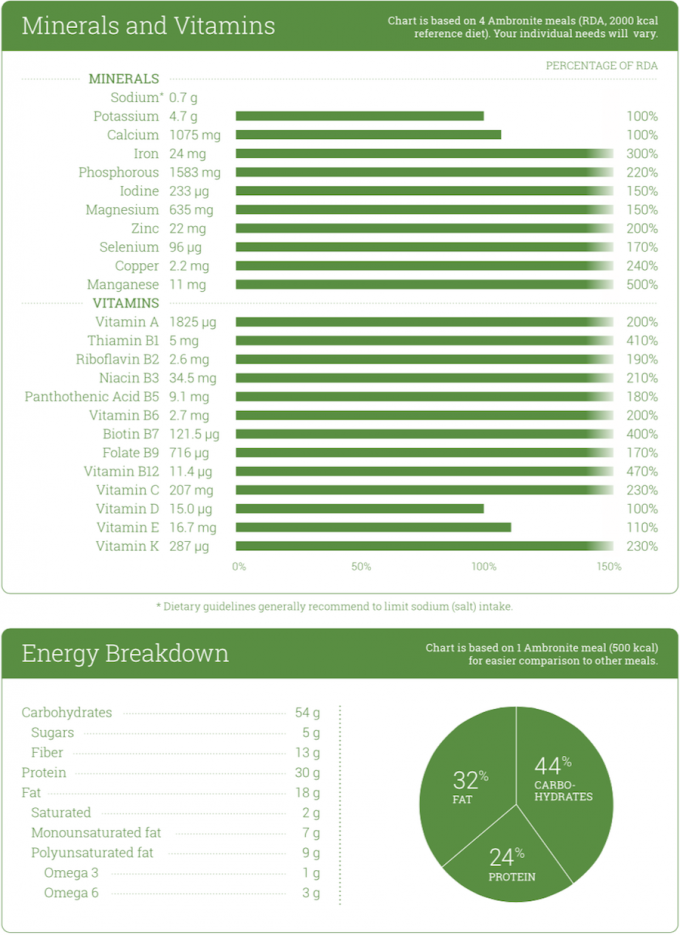 Ambronite Has A Good Macronutrient Balance
I like the macronutrient split, it comes close to a 40/30/30, which is a good ratio for me. I shoot for 25-30 grams of protein per meal and eat about 5 times a day, on average. This shake gives me 30 grams of protein, 18 g fat and 54 g carbs, with 13 g of those carbs coming from fiber.
I like that I'm getting 500 nutrient-dense calories in this shake, so it's definitely not a "skinny" shake targeted towards weight loss.
About the taste…it's honestly not bad, a little thick so you need to gum it a little before you swallow it. The best way to describe it would be a nutty, oatmeal flavor with a mild hint of green powder mixed in. I would like to emphasize MILD hint of green powder because I have to choke down most super green powdered supplements, this one's pretty good.
I just used water with it, since I didn't want to jack up the calories. You can also add half a banana, some low-sugar orange juice or unsweetened vanilla or chocolate almond milk. The taste definitely grew on me. I love knowing that I'm putting quality nutrition into my body when I'm in a rush.
So what's my opinion of the energy and satiating benefits of this shake? It kept me full for a good three hours and I was not at all ravenous at my next meal, which often happens with me if I go too long…..this girl can get hangry!
Where To Buy Ambronite
If you'd like to try out Ambronite for yourself, please check out their website for details and ordering information.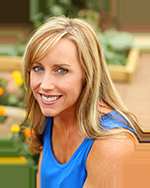 Latest posts by Amee Livingston
(see all)