*Photos provided by Applegate.  Applegate provided a Wienervention Kit for my review.  All opinions are my own and not influenced in any way.
Are you in need of a Wienervention??  Do you love hot dogs, but feel a little scared about what's in them??  Fear no more, Applegate has a delicious, organic "cleaner wiener" to satisfy your hot dog cravings.  Their hot dogs contain only beef, water, salt and spices.  That's it!  I can pronounce all the ingredients….yay!
My kids love the great products from Applegate and they taste delicious!  Applegate's hot dogs were voted #1 healthiest hot dog in an article from  The Daily Meal!  Check out the fabulous Wienervention Kit below and enter for your chance to win one for yourself!  Enter by following the instructions in the attached contest link.  Good luck and happy grilling!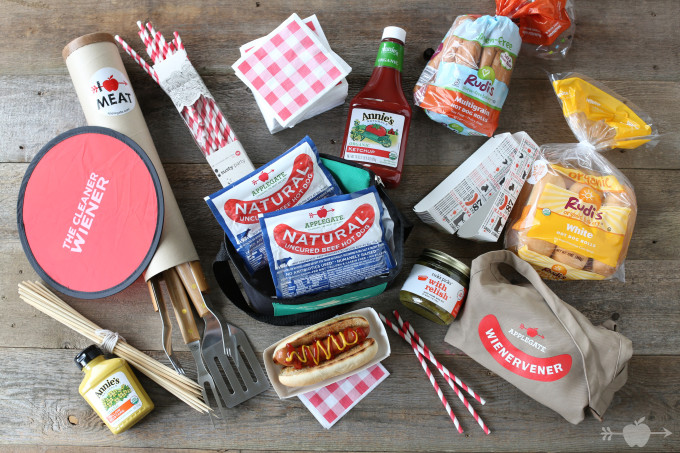 The Wienervention Kit includes:
-Applegate Naturals Beef Hot Dogs
– Rudi's Hot Dog Buns (White and Gluten-Free)
– Annie's Organic Ketchup and Mustard
– Rick's Pick's Relish
– Applegate Apron
– Grilling tool set
– Frisbee
– Mini Applegate Cooler
– Susty paper straws and napkins
Enter here for your chance to win.  Good luck and happy grilling!
a Rafflecopter giveaway