I feel incredibly honored to have been invited to participate in an invitation only "Sweetest 16 Baking Contest" sponsored by Solo Foods.  I spent the last couple of weeks trying out new recipe ideas (hence the lack of posts…sorry guys…hopefully, you'll find this recipe worth the wait) and created this moist, decadent vanilla bean cake as my entry.  Friends, it's not my usual healthy fare but it's so unbelievably delicious, consider it a holiday treat.  I put a few of my favorite flavors together into one heavenly cake.  Low calorie/healthy in a dessert competition seems like an oxymoron, so I went for splurge mode here. 🙂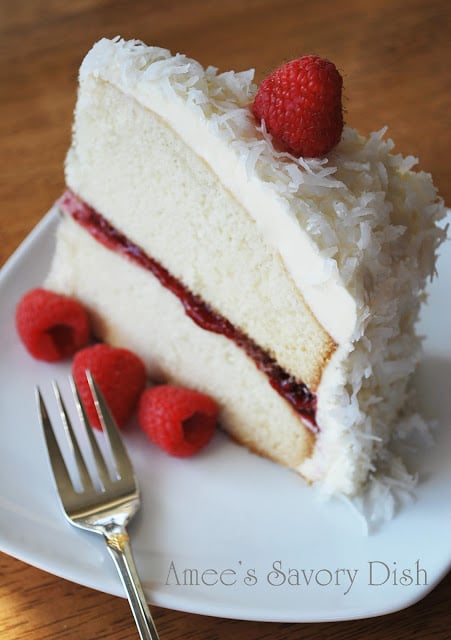 Ingredients for Vanilla Bean Cake:
12 tbsp unsalted butter, room temperature
4 large egg whites, room temperature
1 whole large egg, room temperature
1 cup whole milk, room temperature
2 tsp good quality vanilla extract
1 vanilla bean, split lengthwise  
3 cups cake flour, sifted
1 tbsp + 1 tsp baking powder
1 (12oz) can Solo Raspberry Filling
Ingredients for Frosting:
1 cup unsalted butter, softened
3 cups confectioners' sugar
1 tsp good quality vanilla extract
8 oz good quality white chocolate, chopped, melted and cooled (Ghirardelli bars are recommended, do not use chocolate chips or candy melts because the wax coating will affect the frosting texture)
4-5 tbsp heavy whipping cream
1/4 to ½ tsp sea salt *optional
2 1/2 cups sweetened, flaked coconut (for topping the cake)
Make the raspberry filling by mixing the Solo Raspberry filling with the Chambord raspberry liquor with a whisk until blended and smooth.  Set aside and now prepare your cake.
Preheat your oven to 350 degrees F.  Grease and line two 9×2 round cake pans with shortening or baking spray and line the bottom with parchment paper for easy release.  Combine vinegar and milk in a small bowl and let sit for a few minutes, then add in the baking soda and gently stir until mixed.  Scrap vanilla bean seeds from the pod and place into a medium size mixing bowl.  Add the egg whites, the whole egg, vanilla extract and a ¼ cup of the milk mixture to the bowl and mix until thin and frothy with a whisk blender attachment.  Pour mixture through a fine mesh strainer removing any clumps from the vanilla bean seeds. 
Combine dry ingredients (including sugar) in a mixing bowl and blend on low.  Add the butter and remaining ¾ cup milk mixture.  Mix on a low setting until incorporated and then on medium speed for 2-3 minutes.  Now add the rest of the egg mixture, slowly, until all is incorporated.  Stop mixer, scrap down the sides and blend until mixture is combined (about a minute).   Add boiling water, making sure to scrap down the sides and bottom to release any clumps and thoroughly combine (about 30-45 seconds).  Mixture should be thin and smooth.  Pour evenly into the two cake pans and bake for 30-40 minutes (depending on your oven) in the upper rack of the oven at 350*F.  Toothpick should come out clean and cake will be a nice light golden color on top when done. 
Chop up your white chocolate bar into small pieces and place into a microwave safe bowl.  Cook on high for 30-35 seconds and stir.  Cook for another 30-40 seconds until melted and smooth.  Set aside to cool.  In a large mixing bowl, beat the butter and sugar on low speed for 1-2 minutes or until fluffy.  Add vanilla, sea salt, cooled white chocolate and heavy cream and beat on high for several minutes, making sure you scrap down the bowl periodically.  You may need to add a little more cream or sugar until it gets to your favorite spreading consistency. 
Spread bottom vanilla bean cake layer with raspberry mixture and top with second cake layer.  You may have to slice a little off the top of the bottom cake layer, so the top cake layer will lay flat.  Cover in white chocolate frosting and coat top and sides with sweetened coconut.  Garnish with fresh raspberries and serve. 
*Baker's tip:  Frost a "crumb layer" on your cake using just enough frosting for a thin, smooth coat and refrigerate for 45 minutes or so to set.  Now you can easily smooth on the rest of your frosting.  You can also make this into a 4 layer cake or cupcakes, injecting the filling into the center of the cupcakes.  Just adjust the cooking time for the cupcakes to 15-20 minutes, until toothpick comes out cleanly.