Move over Starbucks, now there's something healthier!  This latte makeover is delicious and made with real pumpkin puree and coconut sugar, a natural sugar substitute.  I used my new Keurig Elite Brewer to make this recipe.  It was super convenient and  only required one coffee pod to make the two latte servings.  I've owned a Keurig for the last 7 years and it has been one of my favorite kitchen gadgets.  I was thrilled to update to this newer, quieter model with a filtration system and descaling feature.  Since I only drink one cup of coffee in the morning, nothing is wasted when I can brew a single cup.  When making this latte, a good bold roast coffee is best for great flavor.
Homemade Pumpkin Spice Latte
Ingredients
1 cup strong brewed coffee
¼ tsp pumpkin pie spice
¼ tsp bourbon vanilla extract
1 tbsp coconut sugar
2 tbsp pumpkin puree
4 tbsp whole milk
Instructions
Combine all ingredients, except coffee, in a microwave safe container
Stir to blend well and cook on high for 1 minute (can also do this on the stovetop, whisking until hot)
Stir mixture and set aside
Divide coffee between two mugs and pour pumpkin mixture on top using a fine mesh strainer to catch any remaining pumpkin pulp
Garnish with cinnamon or freshly grated nutmeg and enjoy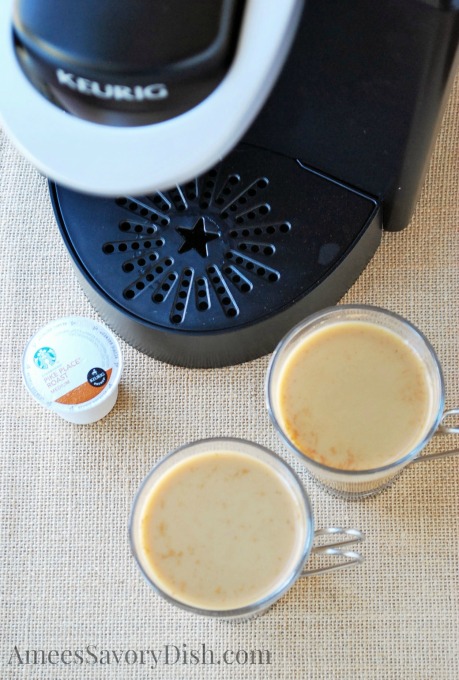 *I was provided product for my review.  All opinions are my own and not influenced in any way.