I am thrilled to feature Ally D'Antoni Phillips from Ally's Kitchen today!
Ally's cooking is a reflection of her life—where she came from, her DNA, her experiences and travels, her Croatian heritage, her adventurous spirit, and, of course, her humble background growing up in the hollers of West Virginia.  'Bohemian Bold' cuisine means taking peasant and everyday ingredients and transforming them into something chic and luxurious.
Ally was literally born a Cook, and she's been cooking since she was a kid.  But, her real passion for cooking, blogging, creating came after she earned a doctorate, ran a private practice for 30+ years and  finished raising her 3 sons, whom she proudly says are all now adults and paying their own taxes!  After appearing on Season 2 of Master Chef, Ally launched 'What's for Dinner? Ally's Kitchen' on Facebook and her website 'Ally's Kitchen' at www.allyskitchen.com . 
Since then she's gone on to create award-winning dishes recognized by Gallo Family Vineyards, Wisconsin Cheese and the Grilled Cheese Academy, James Beard award-winning chef Rozeanne Gold, Campo Viejo Winery, To Tuscany 'Best Foodie Blogger' competition and others—she's recently earned a coveted invitation to compete in the November 2012 'World Food Championship' in Las Vegas.   Her trade mark Bohemian Bold culinary style transcends all aspects of her life and not just cooking. In Ally's own words, here's how she describes her Boho life…
"Life for me is like eating an orange—I want to suck out every drop of nectar and when that's gone, I'll zest the rind for more flavor.  My Bohemian Life is all about cooking and living adventurously!"
I am so glad that Ally has graciously shared her wonderful fruit salad recipe with us!  I hope that you will stop by her page, Ally's Kitchen and browse all of her tempting recipes.  I know that you'll want to stay a while.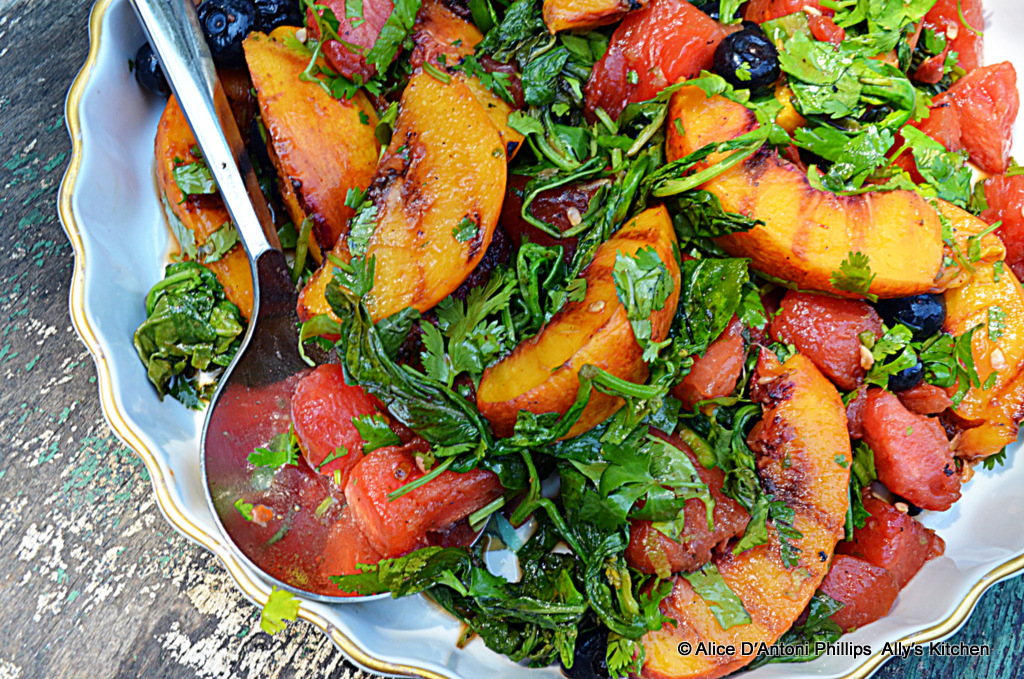 Cast Iron Skillet Grilled Fruit Salad
Ingredients:
2 large peaches cut in thick wedges
2 tbl sugar + ½ tsp cardamom mixed together
4 pieces of thick cut seedless watermelon (rind off) & sprinled lightly with sea salt
1 tsp finely chopped jalapeno pepper
Directions:
In a large cast iron skillet (preferably one with grill stripes),coat with cooking spray, and heat skillet over medium high heat.  Place peach wedges and sprinkle with the sugar mixture.  Grill about 1-2 minutes or until grill stripes begin to form.  Flip to the other side and grill another 1-2 minutes.  Remove, place in shallow dish like a plate (do not crowd) and put in refrigerator or freezer to chill immediately.  Leave in about 15 minutes.
Using the same skillet, coat lightly with cooking spray, and grill the watermelon on each side about 1-2 minutes or until grill stripes (or golden browning) starts to form.  Remove and put on a plate.  Place in freezer to cool and  slow cooking process.   Leave in about 15 minutes.
Place arugula in skillet, over medium heat.  Drizzle with olive oil and lime juice and with tongs toss and turn just wilting the leaves.  Add zest and toss with tongs.
In a large mixing bowl, combine peach slices.  Cut watermelon into bite pieces.  Add arugula and gently toss with tongs.  Add blueberries, cilantro, jalapeno and mix.  You can serve immediately or refrigerate for serving later.