One of the easiest breakfast recipes that you can make for a nutritious grab-and-go meal is overnight oats.  I use Greek yogurt and almond milk and combine with whole grain oats, fruit, nuts and spices to create a healthy breakfast that is assembled the night before.
With a recipe like these Carrot Cake Overnight Oats, there's no excuse not to eat a filling and…
Click To Tweet
These Carrot Cake Overnight Oats are satiating and delicious.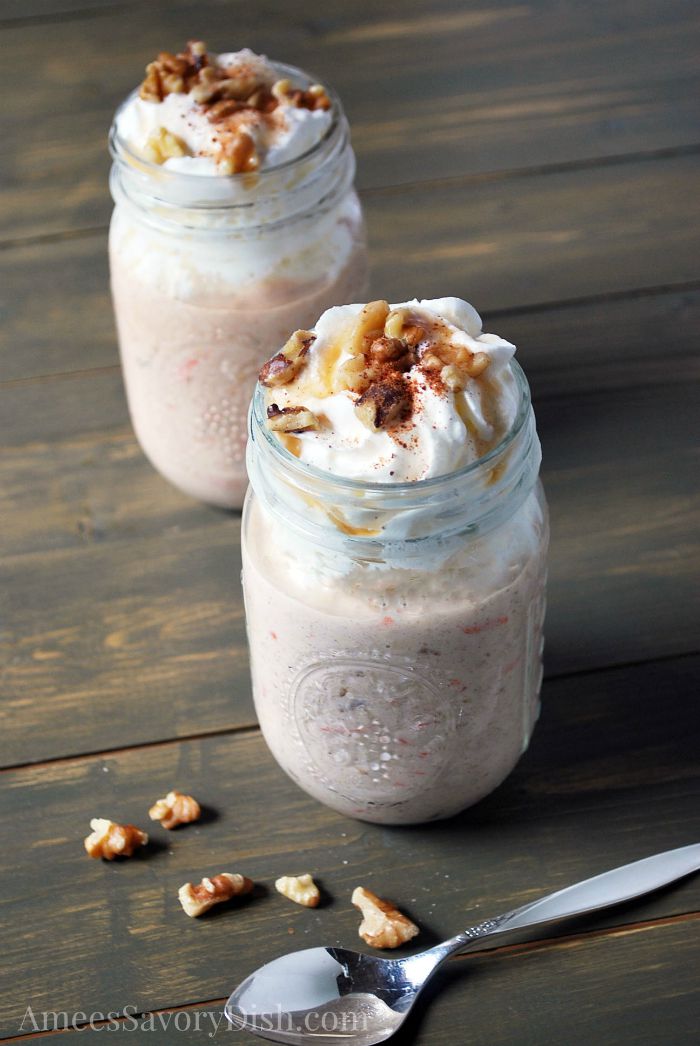 Carrot Cake Overnight Oats
Ingredients
½ cup whole oats
½ cup unsweetened almond milk (can also use 2% milk-I like Fairlife milk, since it's lactose free and double the protein)
1 (5.3 oz) container plain Greek yogurt
½ medium size carrot, grated
1 tbsp coconut sugar (can sub 1 packet stevia or 1 tbsp sugar-free maple syrup like Walden Farms)
¼ tsp vanilla extract
1 tbsp golden raisins
1 medjool date, chopped
1 tbsp raw walnuts
¼-1/2 tsp cinnamon
dash nutmeg
dash ginger
*Optional: whipped cream cheese for topping
*Optional: real maple syrup for drizzling (use a sugar-free syrup, like Walden Farms, if watching sugar intake)
a few extra walnuts for garnish
Another option:
Use 1 cup milk or almond milk mixed with 1 scoop unflavored whey protein instead of the yogurt and ½ cup milk.
Instructions
Stir all ingredients together and pour into a container for serving.
I love to use Mason jars, they are cute and are the perfect size for this recipe
Top with a little whipped cream cheese or whipped cream, a drizzle of real maple syrup and a few walnuts before serving.